Hamedal V20 Auto Zoom Conference Camera
Hamedal V20 is an HD auto-zoom conference camera designed by Auditoryworks. Thanks to the 135° ultra wide-angle camera supporting 2K HD video output, the ground-breaking algorithm that allows the camera to automatically detect and track attendees, and a built-in 4 MEMS microphone array, V20 provides an unparalleled online video conferencing experience. Compact design, USB plug & play, flexible setup, and general compatibility with all leading online conference platforms, make Hamedal V20 an ideal choice for medium to small conference rooms.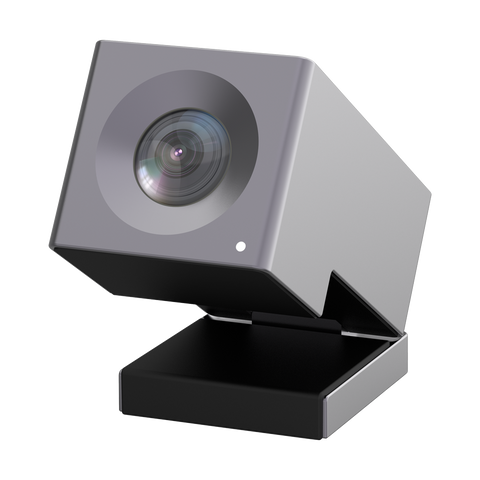 2K/135° Ultra Wide-Angle Lens, Immersive Visual Experience
Equipped with a customized 135° ultra-wide-angle lens and Sony IMX image sensor, Hamedal V20 supports 2K HD video calls to capture every meeting attendee clearly. its distortion-free 5x digital zoom capacity makes sure every detail within the field of view is captured vividly.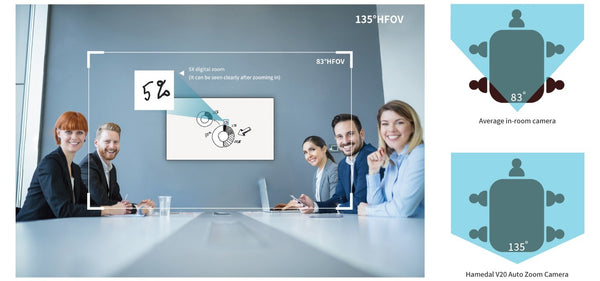 Powerful Face Detection & Human Tracking Algorithm, Hands-Free Control Experience
Thanks to the built-in chip with powerful AI algorithms, Hamedal V20 can detect and track conference participants, even those wearing face masks with help of the latest CNN neural network technology. The camera can also automatically zoom in to a certain part of the view field according to the dynamics of attendees number and locations, thus ensuring the maximumly optimized real-time conference streaming without human interference, so that you can focus on your agendas on the meeting, instead of the meeting devices, and have a significant promoted video conference experience.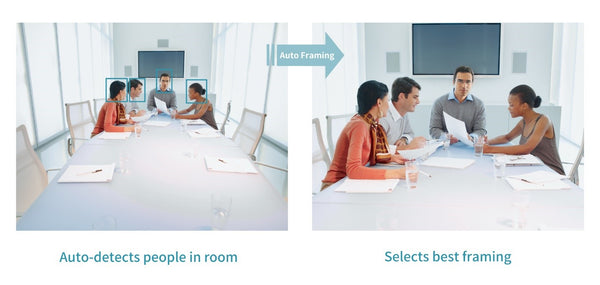 Attendee-Counting API for Your Smart Conference Room
Thanks to the lossless scaling technology, Hemedal V20 can accurately count the number of conference attendees and provide the data to corporates' IT department via API to save their time and cost.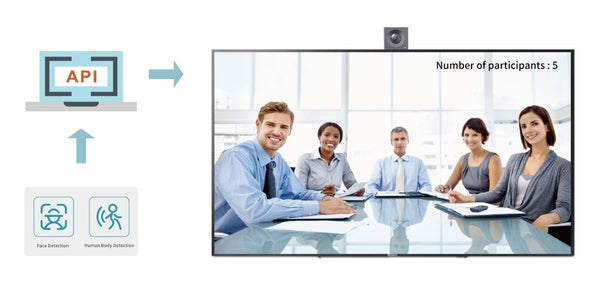 Flexible Installation, Simplified Setup, Universal Compatibility
Coming with clips and telescopic bracket, compatibility with any standard tripod, and compact design, Hamedal V20 can be placed to a wide range of locations like on top of a screen or anywhere in a conference room, for a better viewpoint and overall conference experience. Driver-free USB plug & play and general compatibility with all leading online conference platforms allow much easier deployment and setup.