Hamedal C30 All-In-One Conference SpeakerMic Cam
Hamedal C30 is the next-generation video conferencing all-in-one device designed by Auditoryworks. The product is featured with 135° horizontal ultra-wide-angle, 12 mega-pixel lens, 4K ultra-clear video calls, as well as auditory localization, voice tracking, face detection, etc. to provide users video conferencing experience of smartness and high quality. The built-in 8-element omnidirectional microphone array and customized wideband speaker, combined with the latest algorithms, enable flawless full-duplex two-way communication within 5 meters range. Hamedal C30 integrates the conference camera, microphones and speaker unit, so you can wipe away the messy cables and keep your conference space organized and neat. You can even daisy-chain Hamedal C30 with Hamedal A20s. Hamedal C30 is a wise choice for large, medium, and small meeting rooms.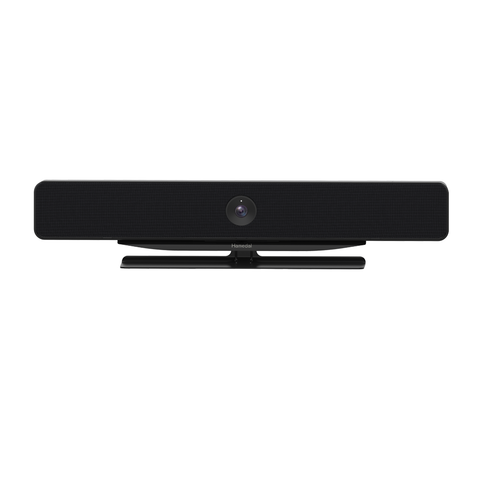 135° Horizontal Ultra Wide-angle Camera to Capture Every Attendee With Clarity
Hamedal C30 owns a customized 135° horizontal ultra-wide-angle camera, which has a larger wide-angle than the most traditional 83-degree lens on the market and has no image distortion. All conference participants can be captured and seen easily with the camera range covering every corner of the meeting room. Thanks to the 12 mega-pixel camera that enables 4K ultra-clear video calls, all details are so vivid and it feels just like an in-person meeting.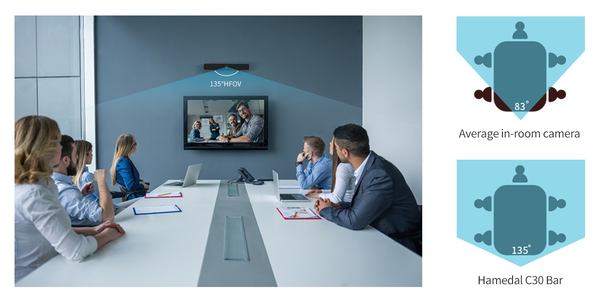 Real-time Speaker Tracking, Automatical Framing for Efficient Conference Calls
The built-in chip in Hamedal C30 integrates multiple cutting-edge technologies, including face detection, auditory localization, voice tracking, etc. It can identify and track conference speakers with the latest CNN neural network AI technology and automatically zoom in to frame the best view accordingly.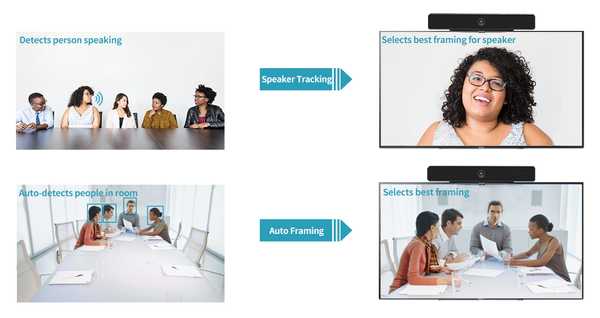 AI Noise-Cancellation with Edge Computing
Hamedal C30 adopts an AI model that was trained by thousands of hours of conference audio records and therefore can effectively suppress various conference room background noises, such as mouse/keyboard tapping, computer, and air-conditioner. With help of the AI algorithm, this product can minimize most indoor noise while retaining people's voices of clarity and nature, to ensure high concentrated attention of the participants.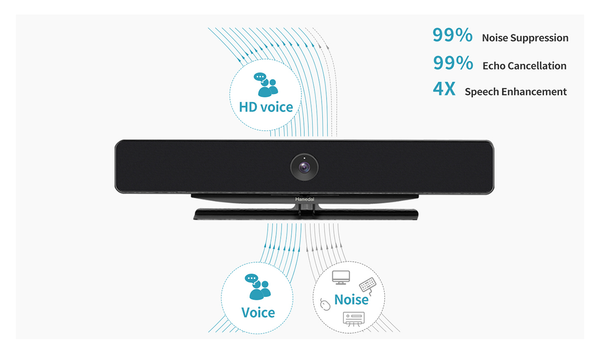 Full-Duplex Communication Within 5 Meters Range, Conference Calls of High Quality
Hamedal C30 adopts an 8-element omnidirectional microphone array and customized HD speaker unit, with patented powerful algorithms, enables smart AGC and voice pickup with clarity within 5 meters range. Full-duplex technology ensures continuous and HD conference calls.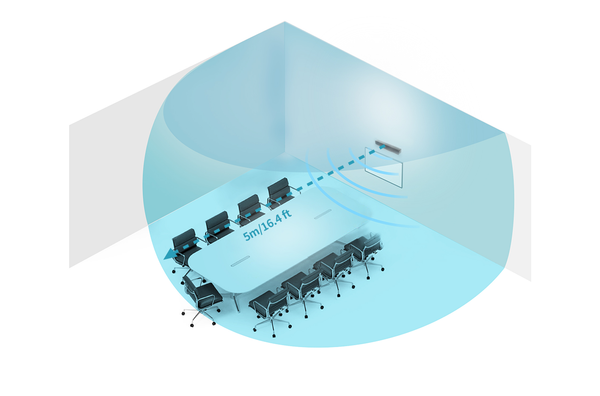 Daisy-Chain to Hamedal A20s to Expand Conference Spaces, Enjoy The Convenient Control and HD Voice
Hamedal C30 works in conference rooms of various sizes, including small, medium and large ones. By daisy-chaining up to 5 Hamedal A20s, now everyone in a relatively big conference space including up to 100 participants can be heard clearly. Moreover, with the buttons on any Hamedal A20s within the daisy-chain network, users can control the whole network, including answering calls, rejecting calls, Muting microphones and modifying speaker volume.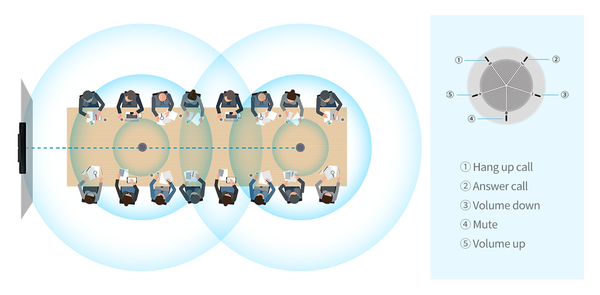 All-in-One Collaboration, Stay Away From Mess, Setup Easily
Hamedal C30 integrates a conference camera, microphone and speaker into one device with plug & play simplified setup. With only 2 cables you can enjoy a neat and organized conference room, without redecoration nor fussy deployment.