Hamedal A20 Conference SpeakerMic
Hamedal A20 is a noise-cancellation speakermic for conference calls designed by Auditoryworks. The speakermic can intelligently suppress office background noises, pickup far-field voices with phenomenal clarity, and conduct full-duplex calls within range of 5 meters, thanks to the audio algorithm of advancement. With features, including the daisy-chain function supporting extended conference space, hidden ports, USB plug & play, general compatibility with all leading online conference platforms, Hamedal A20 is a wise choice for conference rooms of all different scales.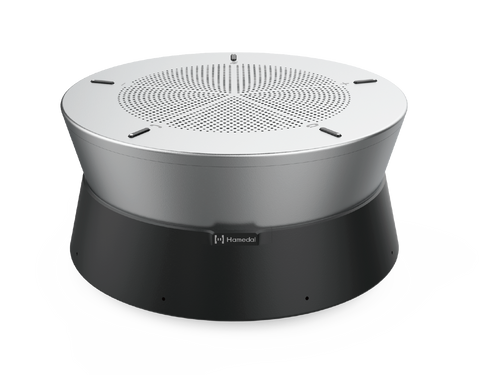 Advanced 3A Algorithm and Professional A

coustic Structure, Full-Duplex Communication Within 5 Meters
Hamedal A20 adopts an 8-element omnidirectional microphone array, empowered by our exclusive patented powerful algorithm. The product can intelligently reduce the background noises, cancel the echo between its speaker and microphones, pickup voices with phenomenal clarity, and enable Automatic Gain Control (AGC) within 5 meters all simultaneously. The built-in customized speaker unit is detached spatially from the microphone array to provide users an uninterrupted, two-way communication experience.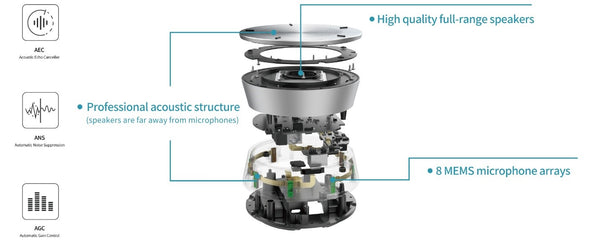 AI Noise-Cancellation. Promote Conference Efficiency with HD, Crystal Clear Sound
Hamedal A20 adopts an AI model that was trained by thousands of hours of conference audio records and thus can effectively suppress various sorts of conference room background noises, such as mouse/keyboard tapping, computer, and air-conditioner. With help of the AI algorithm, this speakermic can minimize most indoor noise while retaining people's voices of clarity and nature, to ensure high concentrated attention of the participants.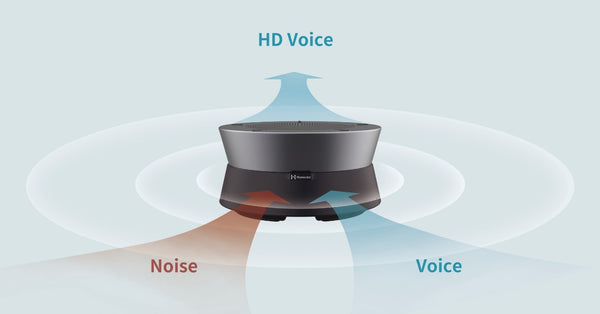 Daisy-Chian Enabled, Medium to Large Conference Room Supported
Thanks to the unique daisy-chain feature, now you can daisy-chain up to 5 Hamedal A20 simply over ethernet cables to adapt to various sizes of conference rooms. For each conference room, according to its spatial properties, Hamedal A20 speakermics can be deployed in a customized fashion to ensure a complete coverage range that every voice and speech can be picked up.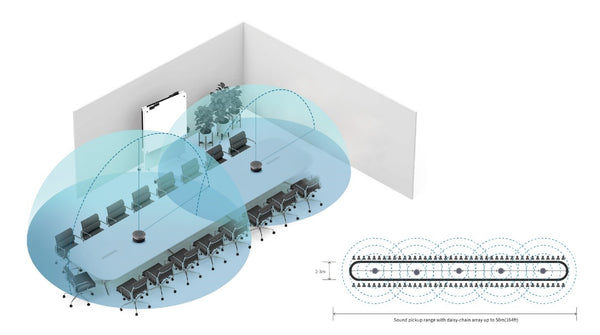 Hidden Ports, Drive-Free, Keep Your Conference Room Neat
The design of Hamedal A20 takes into account the overall impression of your conference room. All of its ports are hidden at the bottom base, so you don't need to worry about the entanglement of various cables. Through such an elegant design, your meeting room can be more organized and stylish. Meanwhile, its functions, including USB plug & play, driver-free, and general compatibility with mainstream conference software, can help to lower enterprises' deployment and maintenance cost.